Webinar 20 May 2021
Transforming food systems with aquatic foods: scaling up sustainable production solutions
An Independent UN Food Systems Summit Dialogue on the role of aquatic foods in sustainable food systems, exploring actions, how to connect research and policy, and how to scale up the good solutions.
Thursday, 20 May 2021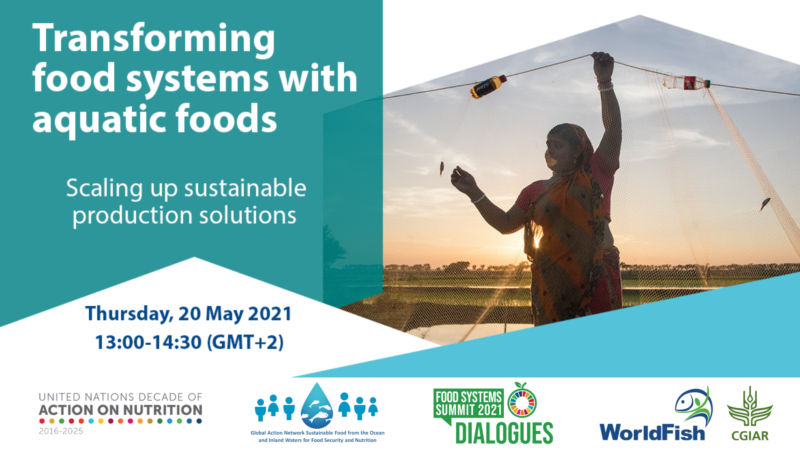 In the lead up to the 2021 UN Food Systems Summit, the Global Action Network, Sustainable Food from the Oceans and Inland Waters for Food Security and Nutrition will hold a series of three Independent Dialogues in an effort to include aquatic foods as key solutions for food and nutrition security – bridging the Decade of Action on Nutrition, the Decade of Ocean Science and the Decade of Action to deliver on the Sustainable Development Goals. The events will be co-hosted by the Norwegian leadership of the Global Action Network and WorldFish.
In this second dialogue, cross sectorial representatives, including high level, will come together to showcase possible solutions and discuss important actions for food systems transformation with aquatic foods as part of the summit's Action Track 3, which aims to boost nature-positive production. The panels will take a holistic approach by combining knowledge on different aspects of food  security (access for all to sufficient, safe, nutritious foods, meeting dietary needs, food preferences) and discuss scaling up sustainable production solutions of aquatic foods as a provider of the nutrients we need at lower environmental costs, and as a provider of livelihoods.
José Luis Chicoma Lúcar

Minister of Production, Peru

Show description

Minister Lúcar spent years advocating for healthy sustainable food systems through his publications, campaigns and teachings before joining the Peruvian government. Previous to his designation as Minister of Production he led a "think tank" in Mexico, and before he led the Viceministry of Industry, Small and Medium Entreprises (SME). He was named one of the 25 people under age 45 to change the Peruvian economy.
Walking the talk: Showcasing possible solutions
Connecting research and policy: How do we scale up good solutions
Tim Fitzgerald

Senior Director, Environmental Defense Fund

Show description

Tim Fitzgerald leads EDF's global programs on sustainable fisheries investment, seafood markets and multilateral engagement, and is an internationally-recognized expert on the intersection of ocean conservation and public health. Tim serves on the advisory boards of the Sustainable Ocean Fund, Fair Trade USA, Ecofish LLC and was the co-creator of GulfWild® — a first of its kind seafood assurance brand.
Joao Campari

Chair, Action Track 3: Boosting nature-positive production systems

Show description

Campari is a senior professional with over 25 years of experience in international development. Currently, he is the Global Leader of WWF's Food Practice, leading the Network´s efforts to enhance the sustainability of the global food system.
Tana Lala-Pritchard

Executive Director, Strategy, Innovation and Communication, WorldFish

Show description

Lala-Pritchard works at the intersection of science, policy, social entrepreneurship and advocacy. At WorldFish, she leads the implementation of research and innovation strategies to advance food system solutions with aquatic foods.