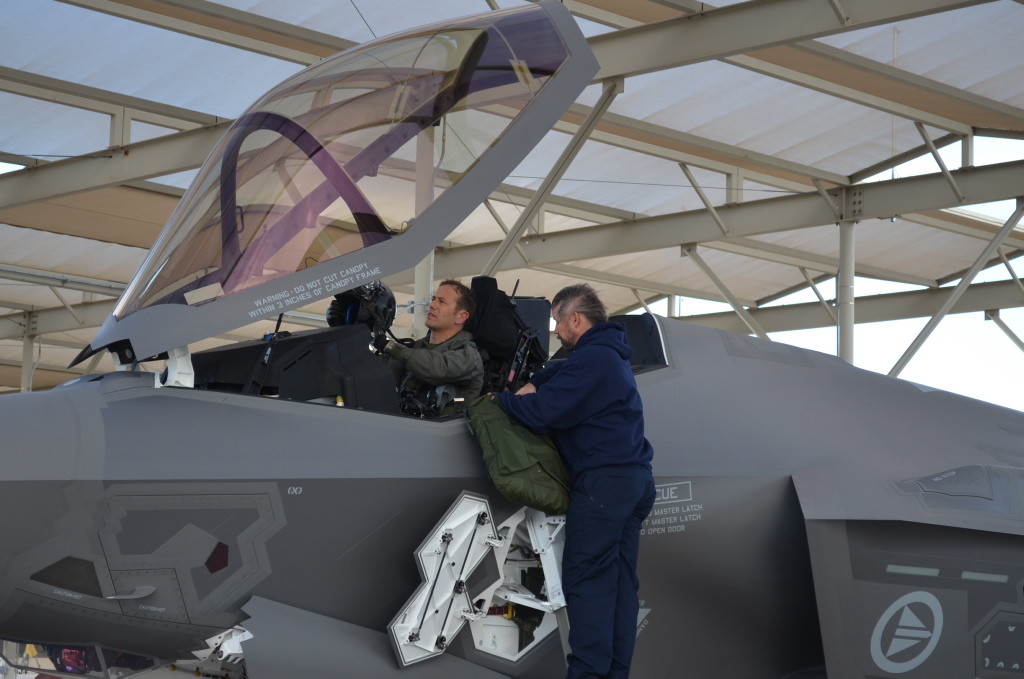 *English translation below*
Jeg har nå flere turer bak meg i F-35 der oppgaven var å trene visuell nærkamp; én mot én, eller «Basic Fighter Maneuvers» (BFM). Jeg skrev et tidligere innlegg om luftkamp generelt, og om hvordan F-35 kan tenkes å havne i en slik situasjon. I dette innlegget skriver jeg spesifikt om hvordan jeg opplever F-35 i nærkamp. Jeg bruker igjen F-16 som referanse. Som F-35-bruker har jeg mye igjen å lære, men jeg sitter igjen med mange inntrykk. Til nå har jeg erfart en maskin som lar meg være mer frampå og offensiv enn jeg kunne være i F-16.
Jeg begynner med å si litt om hvordan vi trener BFM. Selve situasjonen – luftkamp én mot én – kan være mer eller mindre sannsynlig, som jeg har beskrevet i et tidligere innlegg. Treningen er uansett viktig, fordi den bygger grunnleggende ferdigheter. I treningen starter vi oftest fra klart definerte parametre, med et tydelig offensivt, defensivt eller nøytralt utgangspunkt. Vi er nøye med parameterne når øvelsen begynner fordi det blir enklere å trekke ut læringen i ettertid – metode i trening av luftkamp.
Typiske treningsoppsett begynner med én, to eller tre kilometers avstand fra angriper til forsvarer. Minsteavstanden er 300 meter. Det virker kanskje konservativt, men 300 meter forsvinner fort i et kampfly. De ulike avstandene ved start gir ulikt fokus i øvelsen. Større avstand betyr mer energi, høyere g-belastning og ender ofte i en mer langvarig kamp. Kort avstand betyr oftest at øvingsmomentet er å trene skyting med kanonen, eller å forsvare seg mot et kanonskudd.
Før øvelsene begynner sjekker vi alltid dagsformen; er jeg i form til å tåle g-belastningen i dag? «G-awareness exercise» innebærer to middels krappe svinger, med gradvis økende g-belastning. Min erfaring er at spesielt dehydrering, men også lite søvn, påvirker g-toleransen negativt. Om noen har en dårlig «g-dag», så justerer vi øvelsene og unngår høy g-belastning.
Som den offensive parten er øvingsmålene å utnytte alle muligheter til å drepe motstanderen med våre tilgjengelige våpen – både missiler og kanon – samtidig som jeg manøvrerer for å etablere meg i en stabil posisjon bak motstanderen. Fra denne kontrollposisjonen er det mulig å fyre både kanon og missiler, uten at motstanderen har en reell sjanse til å ta igjen.
Hvordan oppfører F-35 seg i luftkamp? Den offensive rollen oppleves som noe annerledes enn jeg er vant til fra F-16. I F-16 måtte jeg i større grad enn i F-35 være tålmodig før jeg kunne peke på motstanderen og levere våpen. Et svært offensivt angrep, hvor jeg pekte for å skyte samtidig som jeg ikke var etablert bak motstanderen, førte ofte til et rollebytte; den offensive ble defensiv.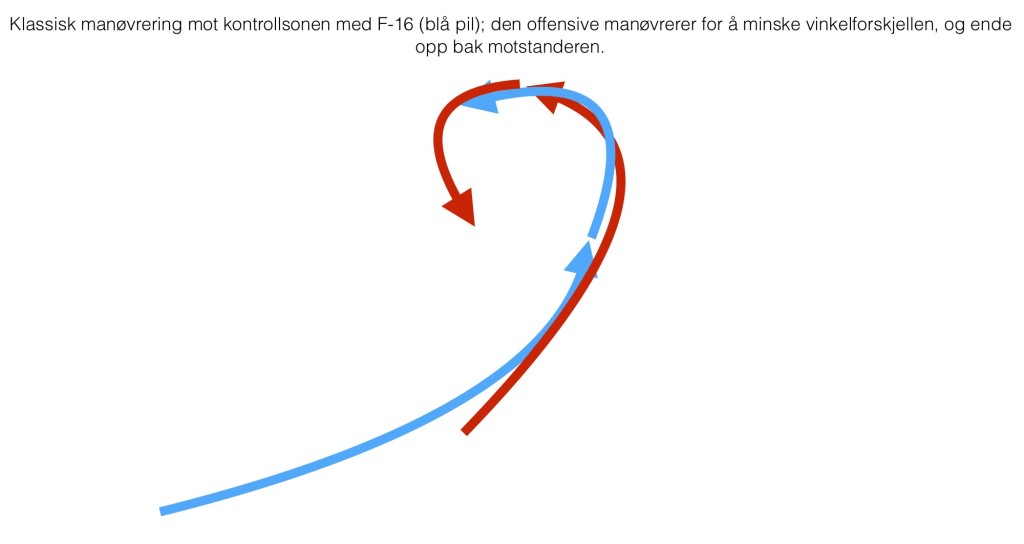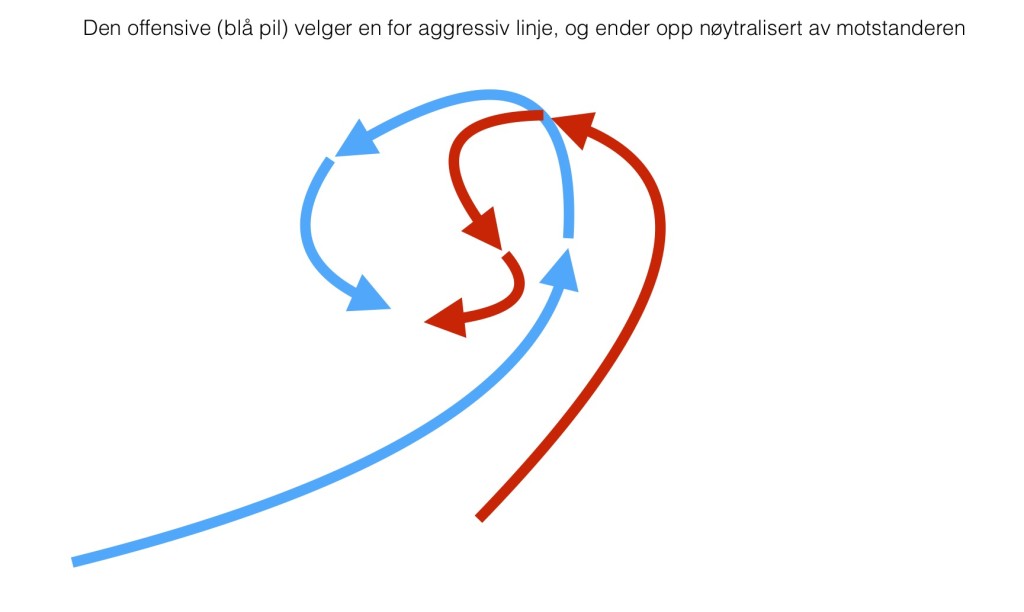 F-35 gir meg som flyger langt større evne til å flytte nesen på flyet dit jeg ønsker. (F-35 gir meg mye større angrepsvinkel enn det F-16 kan gi. Angrepsvinkel beskriver vinkelen mellom lengdeaksen på flyet – dit nesa peker – og hvor flyet faktisk er på vei – vektoren). Evnen til å peke på motstanderen gjør at jeg kan levere våpen tidligere enn jeg er vant til, det tvinger motstanderen til å reagere enda mer defensivt og det gir meg muligheten til å bremse opp raskt.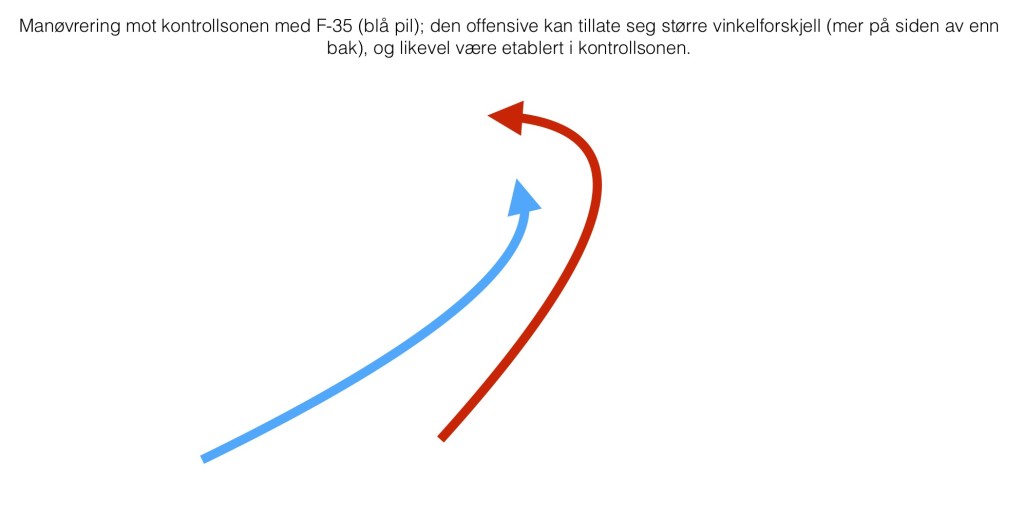 Det er kanskje vanskelig å forstå hvorfor et kampfly bør kunne bremse raskt. Relevansen er at dersom jeg peker på en motstander som svinger mot meg, resulterer det i at avstanden mellom flyene minker raskt. Fordi jeg kan bremse opp raskt, gir det meg muligheten til peke på motstanderen over lenger tid, før avstanden minker så mye at et rollebytte finner sted.
Oppdatering: siden jeg først skrev dette innlegget har jeg hatt flere turer der jeg har prøvd meg på å bevege F-35 enda mer aggressivt enn jeg trodde det var rom for – funket helt fint. F-35 henger på som en klegg, og motstanderen slipper aldri ut av siktet.
Oppsummert er min erfaring så langt at F-35 gjør det enklere å beholde den offensive rollen, og den gir meg flere muligheter til å skyte på motstanderen.
I den defensive rollen er de samme egenskapene verdifulle. Jeg kan hive nesa på flyet rundt i en reaktiv manøver, samtidig som jeg bremser opp. Med F-35 kan jeg bremse opp enda hardere enn det som er mulig i en personbil. Dette er viktig fordi motstanderen må reagere på at jeg «stopper». Hvis ikke ender det opp i et rollebytte når motstanderen flyr forbi meg. (Samme prinsipp som mange har sett i Top Gun; «hit the brakes, and he´ll fly right by». Uten at det gjør Top Gun til en dokumentar).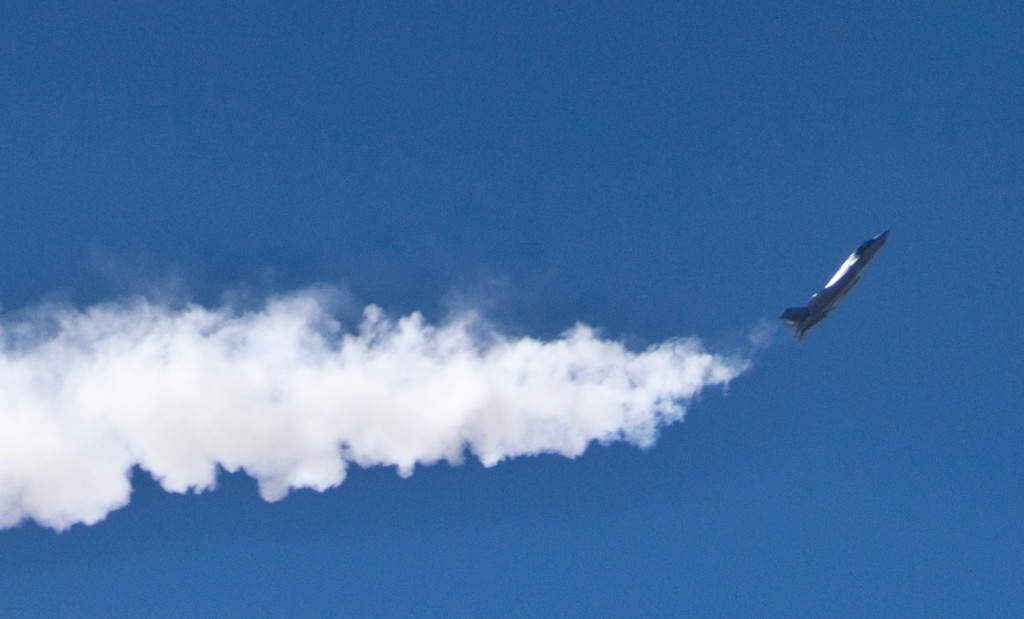 En annen egenskap ved F-35 kommer tydelig fram i defensive situasjoner. Ved høy angrepsvinkel reagerer F-16 tregt når jeg beveger stikka sideveis for å rulle («roll») flymaskinen. Jeg tror det minner om å stå til rors på et digert skip, uten at jeg vet hva jeg snakker om – jeg er ingen sjømann. I F-35 kan jeg bruke rorpedalene for å styre nesa til flyet sideveis. Ved høy angrepsvinkel reagerer fortsatt F-35 kvikt i forhold til F-16. Dette gir meg en alternativ mulighet til å peke nesa dit jeg ønsker og true en motstander. Jeg kan gjøre denne «pedalsvingen» imponerende hurtig, også ved lav hastighet. Som defensiv gir det meg muligheten til å raskt nøytralisere en situasjon, eller kanskje også å reversere rollene.
Opplevelsen av å fly F-35 i luftkamp er noe ulik hva jeg er vant til fra F-16. Den tydeligste forskjellen er at F-35 rister en del ved høy g-belastning og høy angrepsvinkel, mens F-16 nesten ikke rister. Fagtermen er «buffeting», som jeg også beskrev i et tidligere innlegg. Ristingen fungerer som nyttig tilbakemelding, men kan også være en ulempe. Fordi ristingen først begynner ved middels angrepsvinkel, gir det meg som flyger en intuitiv følelse for hvor mye jeg krever av flymaskinen; hvordan påvirkes min totale energi. På den annen side har flere flygere hatt problemer med ristingen, fordi informasjonen som blir projisert på hjelmvisiret kan være vanskelig å lese. De fleste her på Luke flyr med andregenerasjons hjelmer. Jeg flyr med tredjegenerasjons hjelm, og har ikke opplevd dette som et reellt problem.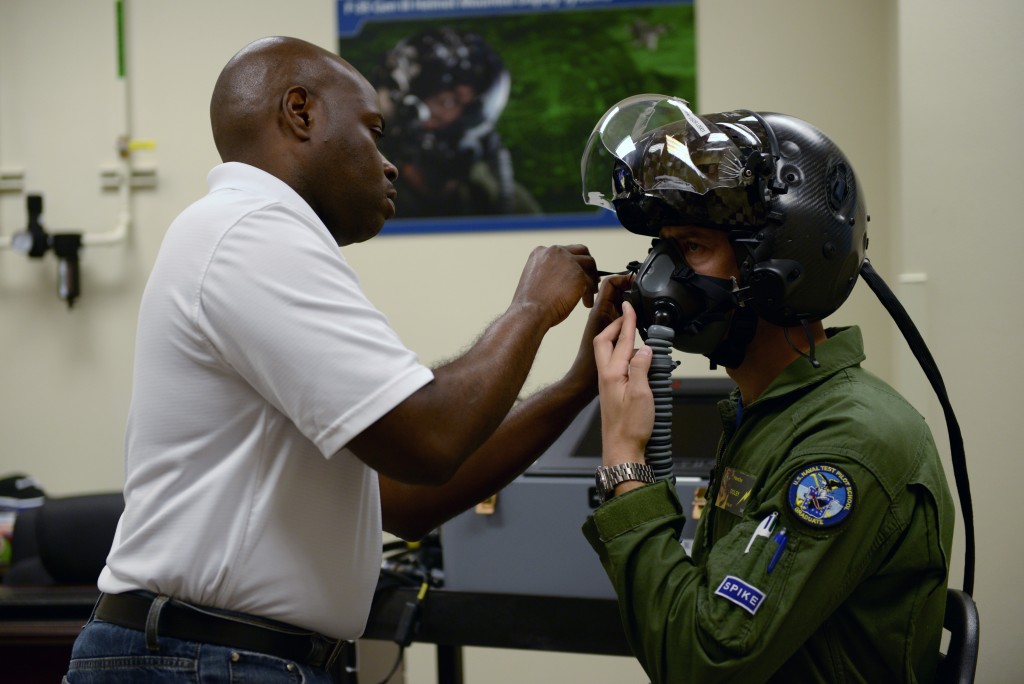 Det jeg har opplevd som noe negativt i treningen én mot én, er at utsikten fra cockpit ikke er like god som i F-16. Utsikten i F-16 var spesielt god – bedre enn i noe annet kampfly jeg har fløyet. Jeg kunne snu meg så langt rundt i setet at jeg kunne se motsatt vingetipp; snu meg til høyre, titte over «ryggen» på flyet og se venstre vingetipp. Det får jeg ikke til i F-35, fordi seteryggen stjeler en del utsikt. Derfor var jeg litt frustrert etter de første par turene. Det viste seg at jeg hadde mye å hente på å lære meg et nytt bevegelsesmønster. Nå kompenserer jeg ved å bevege meg framover i setet og lene meg litt sideveis, før jeg snur hodet og ser bakover. Slik kan jeg se rundt sidene av seteryggen. Jeg bruker hendene til å stemme fra mot glasset i «cockpit» og mot rammen rundt. Med tanke på utsikt så hadde jeg en fordel i F-16, men til tross for det klarer jeg også i F-35 å holde øye med motstanderen gjennom aggressiv manøvrering. Utsikten lar meg være effektiv i visuell nærkamp, og det vil være misforstått å vinkle dette som et reellt problem med F-35.
I positiv retning vil jeg fremheve hvordan F-35 føles i lufta, og er imponert over hvor stabil og forutsigbar flymaskinen er. Spesielt i situasjoner med høy angrepsvinkel og svært lav hastighet. Det er ganske spesielt å fly maskinen ved høy angrepsvinkel. Jeg kan løfte nesa til flyet slik at jeg sitter med bena «på horisonten», og likevel fly beint fram i samme høyde. Jeg er også imponert over hvor raskt F-35 akselererer når jeg reduserer angrepsvinkelen. Høy angrepsvinkel gir meg mye løft, men også enorm indusert luftmotstand. Når jeg «bryter» angrepsvinkelen, er det tydelig at F-35 har en kraftig motor. I tillegg lager den lyd da. Når jeg går raskt fra høy til lav angrepsvinkel – dytter stikka fram – så hører jeg i «cockpit» tydelig at F-35 uler! Det virker som om ulingen er en blanding av vindsus over vingene og endret motorlyd. Kanskje ikke så relevant, men en artig observasjon synes jeg. En annen side ved dette er responsen når jeg dytter stikka fram; F-35 reagerer momentant, og ikke forsinket, slik som F-16. Det er imponerende å se på en annen F-35 gjøre slike manøvre. De ulike rorflatene på flymaskinen er store, og de beveger seg raskt. Jeg kan lese disse bevegelsene på skjermene mine i cockpit, og er fascinert over hva som skjer av bevegelser på rorflatene når jeg beveger stikke og pedaler. Spesielt ved høy angrepsvinkel er det ikke alltid intuitivt hvilke rorflater som beveger seg og hvor mye.
(Under er en kort video som viser hvor mye rorflatene på F-35 kan bevege seg.)
Den endelige «læreboken» for hvordan vi best utnytter F-35 i nærkamp er enda ikke skrevet – den skrives bokstavelig talt av naboen min, her hvor vi bor! Vi har mange spennende diskusjoner om emnet for tiden, og det føles givende å være en del av utviklingen. Jeg vil sette strek under multirollemaskin etter å ha erfart hva den kan i nærkamp. F-35 biter fra seg også på nært hold. De som tviler vil få seg en overraskelse når de møter dette «bombeflyet».
---
The F-35 in a dogfight – what have I learned so far?
Kampflybloggen (The Combat Aircraft Blog) is the official blog of the Norwegian F-35 Program Office within the Norwegian Ministry of Defence. The author of this post, Major Morten «Dolby» Hanche, has more than 2200 hours behind him in the F-16, he is a U.S. Navy Test Pilot School graduate, and on 10 November 2015 he became the first Norwegian to fly the F-35. He now serves as an instructor and as the Assistant Weapons Officer with the 62nd Fighter Squadron at Luke Air Force Base in Arizona.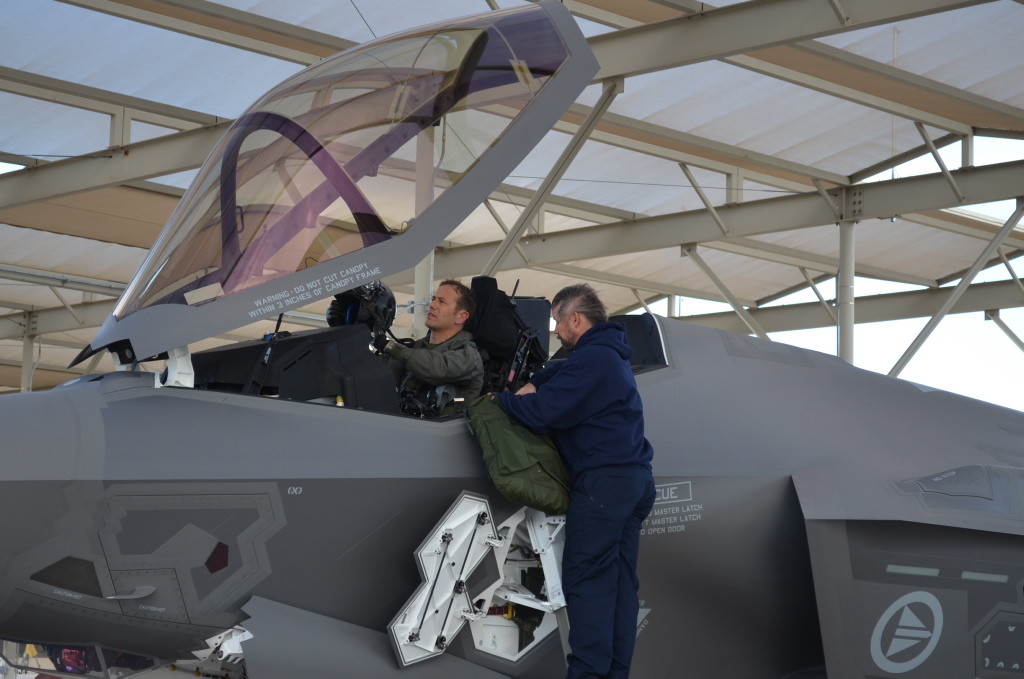 I now have several sorties behind me in the F-35 where the mission has been to train within visual range combat one-on-one, or «Basic Fighter Maneuvers» (BFM). In a previous post I wrote about aerial combat in general (English version available), and about the likelihood that the F-35 would ever end up in such a situation. In this post, however, I write more specifically about my experiences with the F-35 when it does end up in a dogfight. Again, I use the F-16 as my reference. As an F-35-user I still have a lot to learn, but I am left with several impressions. For now my conclusion is that this is an airplane that allows me to be more forward and aggressive than I could ever be in an F-16.
I'll start by talking a little about how we train BFM. This particular situation – a dogfight one-on-one between two airplanes – may be more or less likely to occur, as I have described in a previous blog post (Norwegian only). Nonetheless, this kind of training is always important, because it builds fundamental pilot skills. In this kind of training we usually start out from defined parameters, with clearly offensive, defensive or neutral roles. This kind of disciplined approach to the basic parameters is important, because it makes it easier to extract learning in retrospect – a methodical approach to train for air combat.
A typical training setup begins at a distance of one, two or three kilometers from the attacker to the defender. The minimum distance is 300 meters. That kind of restriction may seem conservative, but 300 meters disappears quickly in a combat aircraft. Starting at different distances allows us to vary the focus of each engagement. Greater distance means more energy, higher g-loads and often ends in a prolonged engagement. A short distance usually means that the main objective is to practice gun engagements, either attacking or defending.
Before the training begins, we always check whether we are "fit for fight"; will I be able to withstand the g-load today? «G-awareness exercise» implies two relatively tight turns, with gradually increasing g-load. My experience is that especially dehydration, but also lack of sleep affects g-tolerance negatively. If someone has a «bad g-day», we adjust the exercises accordingly and avoid high g-loads.
As the offensive part, the training objective is to exploit every opportunity to kill your opponent with all available weapons – both missiles and guns – while maneuvering towards a stable position behind the opponent. From this «control position» it is possible to effectively employ both missiles and the gun, without the opponent being able to evade or return fire.
So how does the the F-35 behave in a dogfight? The offensive role feels somewhat different from what I am used to with the F-16. In the F-16, I had to be more patient than in the F-35, before pointing my nose at my opponent to employ weapons; pointing my nose and employing, before being safely established in the control position, would often lead to a role reversal, where the offensive became the defensive part.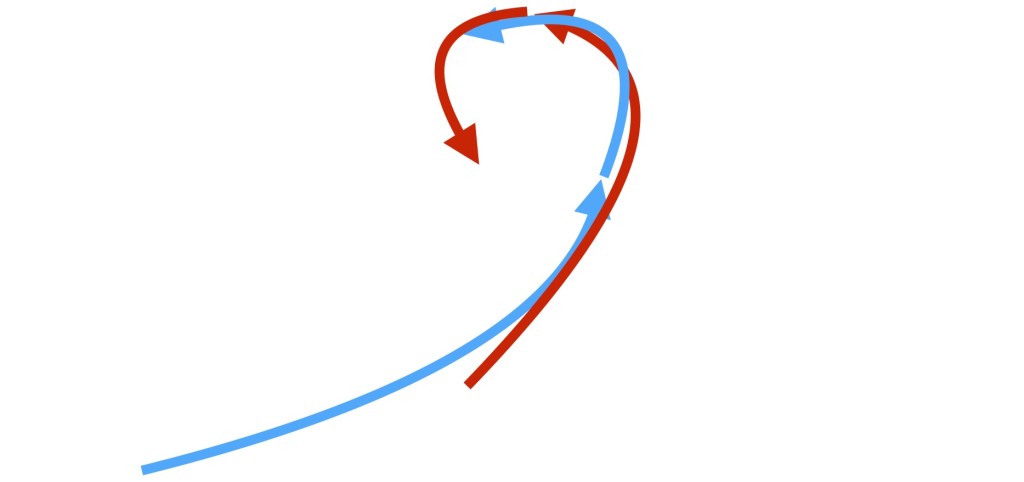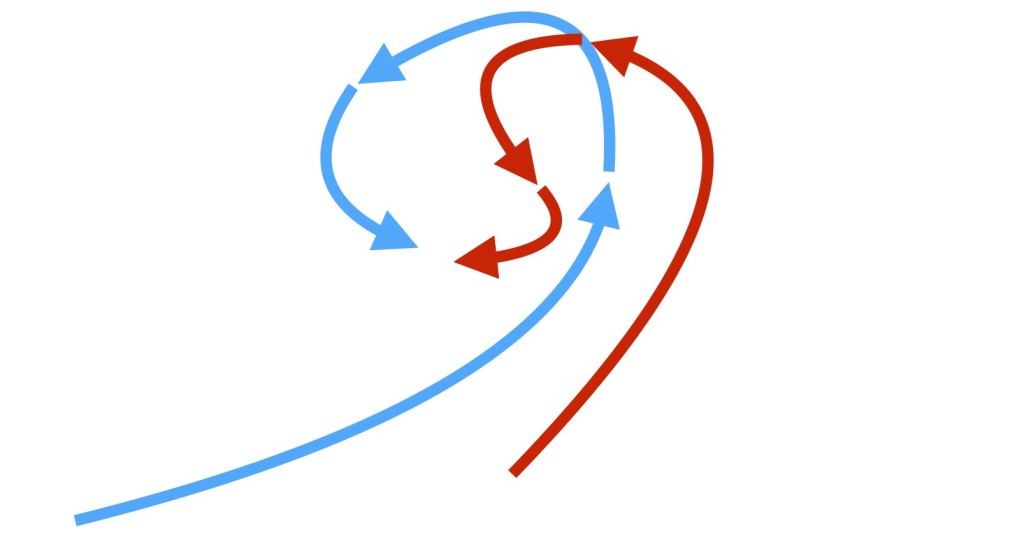 The F-35 provides me as a pilot greater authority to point the nose of the airplane where I desire. (The F-35 is capable of significantly higher Angle of Attack (AOA) than the F-16. Angle of Attack describes the angle between the longitudinal axis of the plane – where nose is pointing – and where the aircraft is actually heading – the vector). This improved ability to point at my opponent enables me to deliver weapons earlier than I am used to with the F-16, it forces my opponent to react even more defensively, and it gives me the ability to reduce the airspeed quicker than in the F-16.
Update: Since I first wrote this post, I have flown additional sorties where I tried an even more aggressive approach to the control position – more aggressive than I thought possible. It worked just fine. The F-35 sticks on like glue, and it is very difficult for the defender to escape.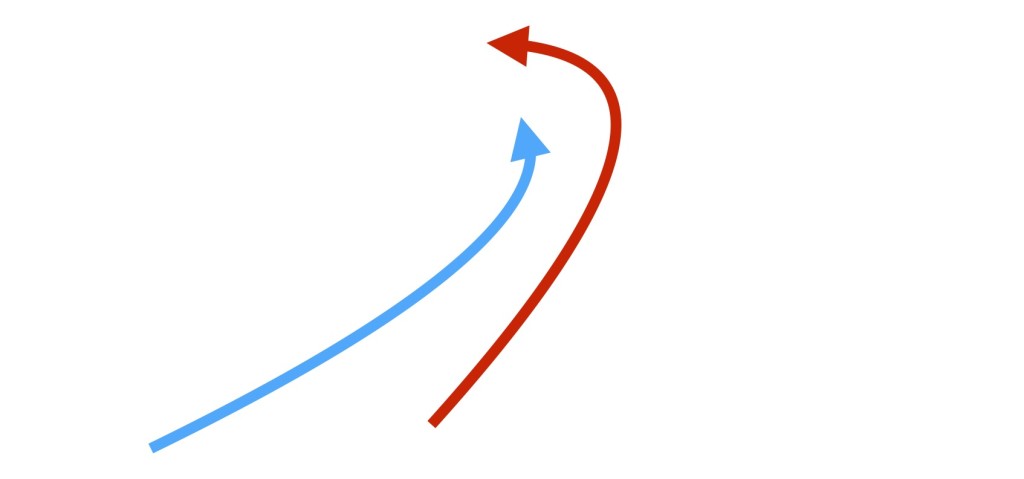 It may be difficult to understand why a fighter should be able to «brake» quickly. In the offensive role, this becomes important whenever I point my nose at an opponent who turns towards me. This results in a rapidly decreasing distance between our two airplanes. Being able to slow down quicker provides me the opportunity to maintain my nose pointed towards my opponent longer, thus allowing more opportunities to employ weapons, before the distance decreases so much that a role reversal takes place.
To sum it up, my experience so far is that the F-35 makes it easier for me to maintain the offensive role, and it provides me more opportunities to effectively employ weapons at my opponent.
In the defensive role the same characteristics are valuable. I can «whip» the airplane around in a reactive maneuver while slowing down. The F-35 can actually slow down quicker than you´d be able to emergency brake your car. This is important because my opponent has to react to me «stopping, or risk ending up in a role-reversal where he flies past me. (Same principle as many would have seen in Top Gun; «hit the brakes, and he'll fly right by.» But me quoting Top Gun does not make the movie a documentary)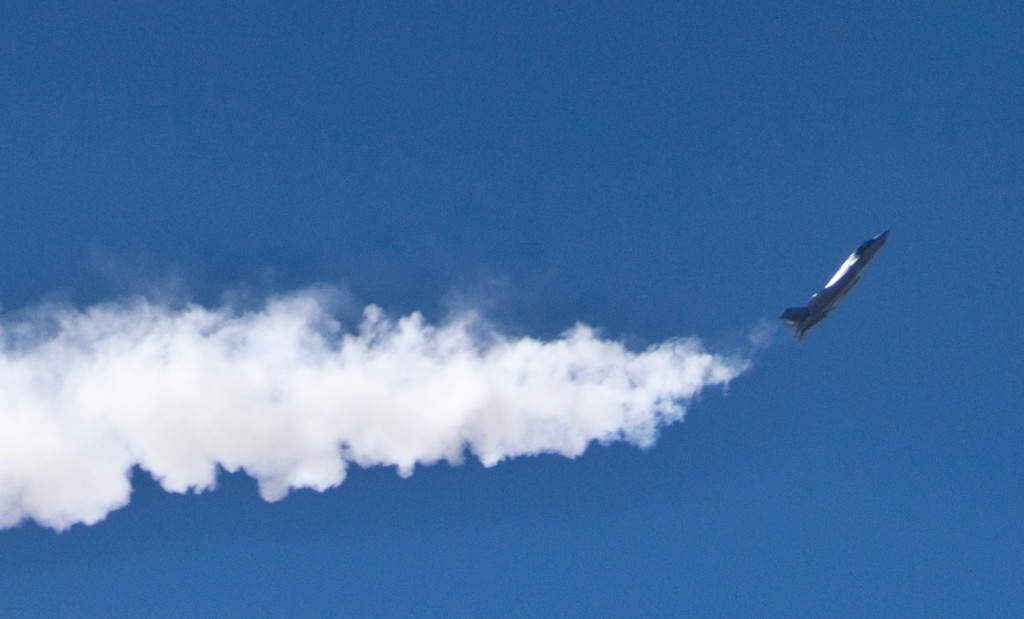 Defensive situations often result in high AOA and low airspeeds. At high AOA the F-16 reacts slowly when I move the stick sideways to roll the airplane. The best comparison I can think of is being at the helm of ship (without me really knowing what I am talking about – I'm not a sailor). Yet another quality of the F-35 becomes evident in this flight regime; using the rudder pedals I can command the nose of the airplane from side to side. The F-35 reacts quicker to my pedal inputs than the F-16 would at its maximum AOA (the F-16 would actually be out of control at this AOA). This gives me an alternate way of pointing the airplane where I need it to, in order to threaten an opponent. This «pedal turn» yields an impressive turn rate, even at low airspeeds. In a defensive situation, the «pedal turn» provides me the ability to rapidly neutralize a situation, or perhaps even reverse the roles entirely.
The overall experience of flying the F-35 in aerial combat is different from what I'm used to with the F-16. One obvious difference is that the F-35 shakes quite a bit at high g-loadings and at high angles of attack, while the F-16 hardly shakes at all. The professional terminology is «buffeting», which I also described in an earlier blog post (English version available). This buffeting serves as useful feedback, but it can also be a disadvantage. Because the buffeting only begins at moderate angles of attack, it provides me an intuitive feel for how much I am demanding from the aircraft; what is happening to my overall energy state? On the other hand, several pilots have had trouble reading the information which is displayed on the helmet visor, due to the buffeting. Most of the pilots here at Luke fly with the second-generation helmet. I fly with the third-generation helmet, and I have not found this to be a real issue.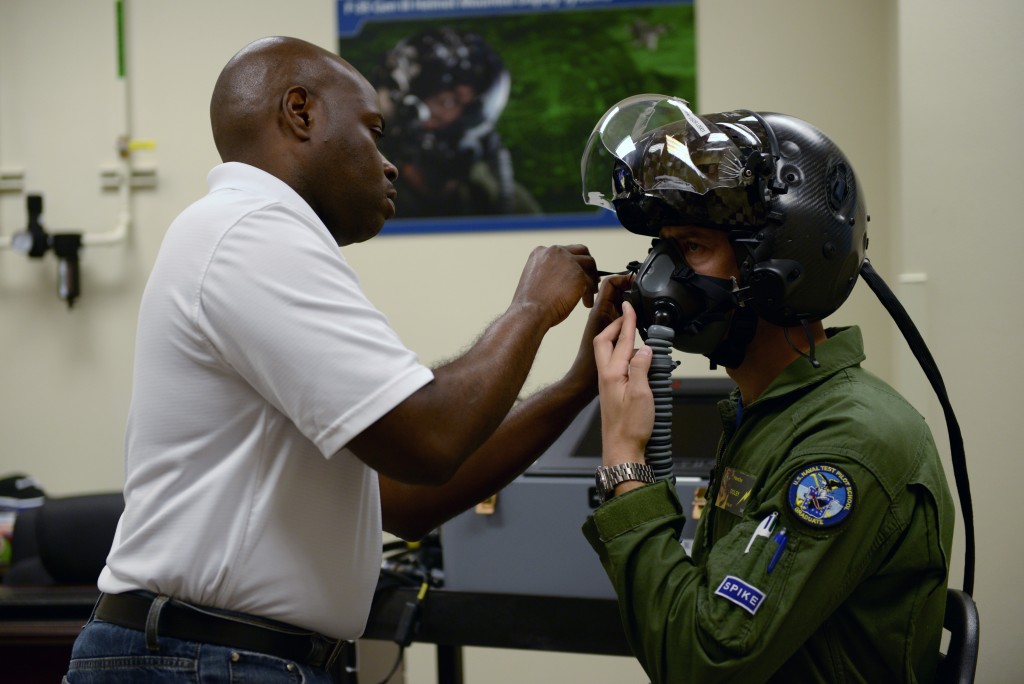 What I initially found to a bit negative in visual combat was the cockpit view, which wasn´t as good as in the F-16. The cockpit view from the F-16 was good – better than in any other fighter I have flown. I could turn around and look at the opposite wingtip; turn to the right, look over the «back» of the airplane and see the left wingtip. That´s not quite possible in the F-35, because the headrest blocks some of the view. Therefore, I was a bit frustrated during my first few BFM-sorties. However, It turned out that practice was all it took to improve the situation. Now I compensate by moving forward in the seat and leaning slightly sideways, before turning my head and looking backwards. In this way I can look around the sides of the seat. I also use my hands to brace against the cockpit glass and the canopy frame. With regards to cockpit view alone, I had an advantage in the F-16, but I am still able to maintain visual contact with my opponent during aggressive maneuvering in the F-35. The cockpit view is not a limitation with regards to being effective in visual combat, and it would be a misunderstanding to present this as a genuine problem with the F-35.
On the positive side I would like to highlight how the F-35 feels in the air. I am impressed with the stability and predictability of the airplane. Particularly at high AOA and low airspeeds. It is a peculiar feeling to be flying the F-35 at high AOA. I can pull the nose up to where my feet «sit» on the horizon and still maintain level altitude. I'm also impressed by how quickly the F-35 accelerates when I reduce the AOA. High AOA produces lots of lift, but also tremendous induced drag. When I «break» the AOA, it is evident that the F-35 has a powerful engine. The F-35 also makes a particular sound at this point. When I quickly reduce the AOA – stick full forward – I can hear clearly, even inside the «cockpit» how the F-35 howls! It seems like the «howling» is a mix of airflow over the wings and a different kind of noise from the engine. Maybe this isn't all that relevant, but I still think it´s a funny observation. Another aspect is the kind of reaction I get when I push the stick forward; the F-35 reacts immediately, and not delayed like the F-16. Looking at another F-35 doing such maneuvers is an impressive sight. The various control surfaces on the airplane are large, and they move very quickly. I can monitor these movements on the screens in my cockpit, and I´m fascinated by how the control surfaces move when I manipulate the stick and pedals. Especially at high AOA, it is not always intuitive what control surfaces move, and by how much.
(The short video below gives an impression of just how much the control surfaces on the F-35 can move.)
The final «textbook» for how to best employ the F-35 in visual combat – BFM – is not written. It is literally being written by my neighbor, down here in Arizona! We have had many good discussions on this topic over the last few weeks, and it feels very rewarding to be part the development. I would emphasize the term "multirole" after experiencing this jet in many roles, and now also in a dogfight. The F-35 has a real bite! Those in doubt will be surprised when they finally meet this «bomber".